Shepherd Cabin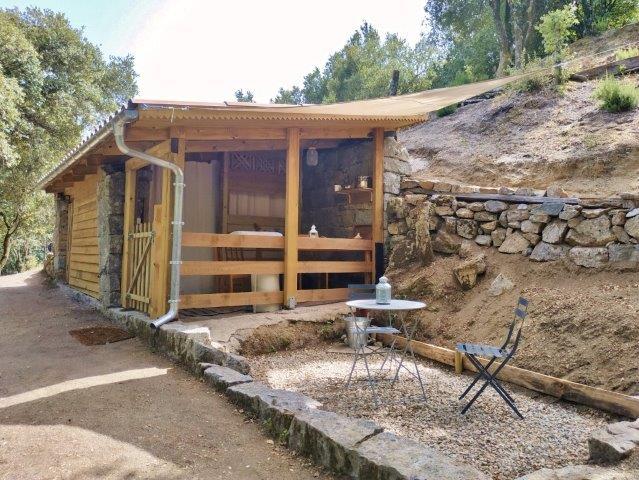 Shepherd Cabin
Eco-responsible private shelter (2 Adults)
Base price 125 € / night
2 nights minimum stay
"L'Estive" is our brand new concept of eco-responsible, Zen and nature-friendly accommodation that is similar to a "Glamping" experience, i.e. a "Glamorous" form of camping in a charming setting with simple comfort. In short, a small private mountain refuge for 1 or 2 adults (> 18 years old), quiet and off the beaten track!
After looking at the pictures and the description below, your mind will easily imagine what kind of short adventure you could live there.
What you must know before confirming your reservation (payment of the deposit)
L'Estive (an old renovated sheepfold) is located in the oak grove of our estate and is accessible from our car park by a small steep footpath 100m long which joins the river. (To carry your luggage, please use bags and not suitcases).
Main facilities and services:
Breakfast buffet included at the Châtelet de Campo (100 m) from 8 am to 10 am.
Private swimming pool at the Châtelet de Campo (100 m)
Private parking at 100 m.
- Dry toilets outside
- Outdoor shower supplied with river water (temperature depending on the sunshine)
- River water point on site
- Drinking water point at 50m
- Electric cooler 24 L
- Stove 2 gas burners
- Crockery and cutlery
- 2 single beds (90cm x 200cm)
- Towels and bed linen
NB:
Maximum staying: 2 nights
Animals are not allowed
For more information do not hesitate to contact us
Additional information
Maximum capacity

2 person(s)

Surface area:

18.00 m²
Rental conditions
Booking type :

Per night

N° nights minimum

2

Base price

125 € / night
Special conditions
2 nights minimum stay
Location
Châtelet de Campo
20142 CAMPO (Corse du Sud)
Book